Get Cai™ today

Explore the world of connected cars
Cai™
Cai™ is the companion smart phone application to EVA for car owners/drivers. It was designed for an immersive experience during a drive with audio alerts and messages to assist a driver real-time to stay in the engine power-band most conducive for low emissions and frugal fuel consumption.

"The automotive emission authorities require that all automobile manufacturers conform to the emission test cycle. As per the Modified Indian Drive Cycle (MIDC) a vehicle shall operate in a broad engine power-band in which all emission and CO2 figures are recorded. On the road this band is often breached which leads to 10% to 20% increase in emissions over certified limits. Cai™ was designed to help you stay inside this band with timely audio alerts."
– Anubhav Amarnath, CEO, EngineCAL.
With Cai™'s real-time alerts coupled with EVA's prognostics capabilities, EngineCAL can help you keep your car's tail-pipe emissions within certified limits.

Interactive HUD
The quintessential part of our immersive in-car experience, the HUD mode is designed to show vital engine parameters, coupled with real-time drive alerts, for an optimal drive.
Realtime Drive Alerts & Prognostics
Cai™ realtime capability is unique. The ability to guide the driver to drive frugally without compromising on pace embodies our 'Safe, Clean And Efficient Motoring' mission while keeping the fun part intact. The realtime drive alerts also help the driver follow the best practices to maintain their powertrain.
Cai™'s prognostics tech focusses on capping tail-pipe emissions and reducing fuel consumption. Maintaining the powertrain close to factory set conditions means that deterioration is down to a minimum. This translates to the powertrain's performance remaining optimum thereby preventing any spikes in emissions or fuel consumption.
Realtime Flywheel Torque
EngineCAL has strived hard, putting in 8 years of R&D in building powertrain specific torque models. Our products and custom solutions work on raw OBD powertrain data to calculate torque and fuel consumption validated at OEM Chassis Dynamometers for accuracy and repeatability.
For the auto enthusiast we have packaged our realworld powertrain AI to delight and intrigue. Cai™ has a plethora of features including this calculated realworld torque capability for the enthusiast who is interested to do 'dyno pulls' and desires more knowledge about his/her machine.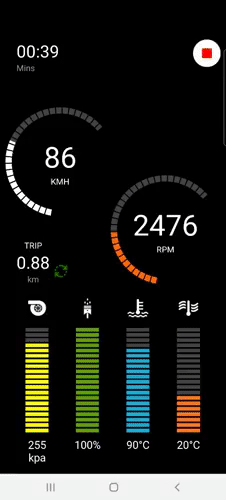 EDAS
EngineCAL's realworld drive score engine, the Efficient Drive Assessment System or EDAS is built for bringing deep drive information, seldom seen, to a driver. EDAS is one of the most sophisticated driver assessment systems developed. It was designed considering the realworld in the truest sense so that when a score is calculated post a drive cycle, it is fair and immediately grasped. It's instantly provided remedial inputs are informative and pragmatic to ensure the driver can improve his/her drive quality. EDAS is intertwined with our realtime driver alerts and prognostics so that any deterioration detected realtime in the powertrain be considered for a fair drive score. While EDAS is available as a feature in our custom solutions, in Cai™ it was integrated for working in tandem with the drive alerts so that the driver is communicated realtime about his/her transgressions. This assists the driver to rapidly adapt and learn to drive 'Safe, Clean & Efficient'.
Graphical Overview
A state of the art, never seen before graphical representation of key statistics for your week's drive, capability in a smart phone application.
Last Drive Statistics
Know important details of your last drive including the drive plot on maps, fuel consumed, distance travelled and much more.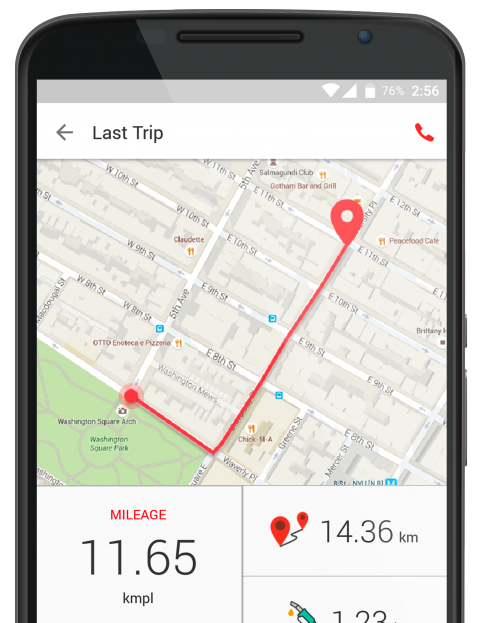 Statistics by Drive(s)
All the vital details of your drive(s) in one screen
Mileage
Your car's accurate mileage
Max Speed
Maximum Speed achieved during the drive(s)
Average Speed
Average speed achieved during the drive(s)
Overrun Duration
Vehicle drive time with zero fuel injected
Maximum Torque
An accurate calculation of your engine's flywheel torque
Distance Travelled
Find out the distance covered in your last drive(s)
Fuel Consumed
An accurate calculation of the fuel consumed in your drive(s)
Duration of Drive
Total drive duration of your last drive(s)
Fuel Saved in Coasting
Total fuel saved during overrun
Idle Time
Total engine idle time during the drive
Pricing Plans
*Cai™ works with all OBDII Bluetooth adapters
₹8999
1 Year (App. Subscription + Adapter)
Analytics Report
Advanced Prognostics
Drive(s) Statistics
In-HUD Realtime Drive Assistance
Realtime Advanced Fuel Saving
Service and Diagnostics
Location Services
₹4699
3 Months (App. Subscription + Adapter)
Analytics Report
Advanced Prognostics
Drive(s) Statistics
In-HUD Realtime Drive Assistance
Realtime Advanced Fuel Saving
Service and Diagnostics
Location Services
₹5999
6 Months (App. Subscription + Adapter)
Analytics Report
Advanced Prognostics
Drive(s) Statistics
In-HUD Realtime Drive Assistance
Realtime Advanced Fuel Saving
Service and Diagnostics
Location Services